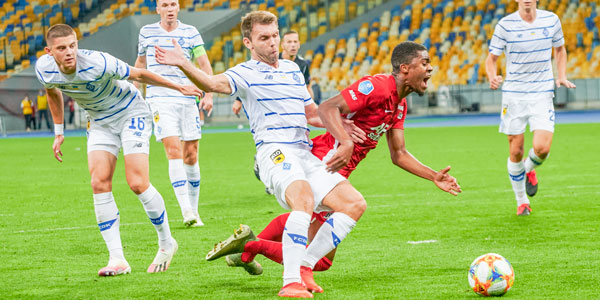 Mindset to Commit to Peak Performance
How many times have you heard a coach say, "We need to play a full 90 minutes?"
When you hear that statement, what comes to mind? What is the coach exactly asking from you?
Players often dismiss a statement such as "play the full 90 minutes" as a trite saying. After all, you are supposed to play hard for the whole game anyway, right?
In our Mental Game of Soccer Survey, a collegiate soccer player asked us the following straightforward question: 
"How can I stay focused throughout the entire game?"
In other words, this player is asking, "How can I play a full 90 minutes?"
No doubt, staying focused throughout an entire match can be challenging. Throughout the game, you experience many distractions such as overly aggressive opponents, missed calls, yellow cards, bad passes, missed shots, loud spectators, unfortunate bounces, etc.
A missed opportunity can cause you to dwell on the mistake for a couple of minutes, affecting your effort and focus. Little lapses in focus lead to advantages for the opposing team. It's no different than playing with a man down for a brief period.
Therefore, playing for a full 90-minutes means staying mentally and physically engaged for the entirety of a game. It requires you to regain your focus quickly when your mind is distracted. When you play with a present-moment focus, you can quickly react to the play on the field as it unfolds.
Mistakes will happen during a game, but mental mistakes can be eliminated with the proper focus and the ability to quickly re-focus on the fly.
Maintaining a 90-plus minute focus was the deciding factor in No. 4 BYU women's soccer advancing to the NCAA championship match for the first time in the school's history. BYU beat defending champion Santa Clara 3-2 on penalty kicks after neither team scored in regulation or two overtimes.
After the game, Mikayla Colohan, BYU's only three-time first-team All-American, commented on the team's mindset throughout the season.
COLOHAN: "Our motto the whole season has been play the whole 90, and today was 110. We reminded ourselves to just stay in it, not get too high or too low. It's frustrating when you hit posts, get a little unlucky, as well as when a team plays as well as Santa Clara did. We made it difficult, but the win is all that matters."
Being focused for an entire match doesn't imply playing mistake-free soccer. Instead, playing the full-90 means that you are mentally and physically engaged in the present regardless of the game's circumstances.
Maintaining a strong focus allows you to play physically aggressive and energetically for 90 minutes while keeping your emotions in check.
A "full-90" mindset is the hallmark of successful and championship-level teams.
90-Minute Mindset for a Soccer Match
Adopt the "Full-90" motto. In training, practices, and games, tell yourself and your teammates "Full-90" to remind the team to play tough mentally and physically on the pitch.
Relax your focus between plays to substitution during the game. Save your focus when you need it most in the overtime.
Stay committed to focusing on your performance cues and refocusing when your mind is not on the field of play!
---
---
Discover Mental Game Secrets to Soccer Confidence!
Does your confidence seem to disappear when you go from practice to games?
Do you get nervous and anxious in big games or when under a ton of pressure?
Do you get so frustrated after making a bad pass that your confidence sinks?
If you are ready to improve your mental toughens and perform with ultimate self-confidence in games, check out our program:
Soccer Confidence: Mental Toughness Strategies For a Competitive Edge
Learn proven strategies to improve focus, composure and confidence so you can perform at your peak in games!
Players: Get the mental edge by learning how to take control of your confidence, mentally prepare for games and perform with composure under pressure.
Trainers: Learn how to give your students the mental game advantage.
Coaches: Boost your team's confidence using simple proven mental strategies.
Parents: Help boost your soccer player's confidence. Don't let their mind hold them back any longer.
Learn the top eight mental game lessons for soccer players to boost your mental game and improve consistency. You'll learn how to mentally prepare for games to performing under pressure to building.