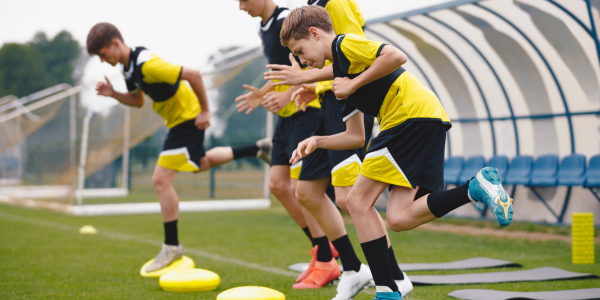 How much does it bother you when others overly criticize you as a soccer player?
Let's face it, there is no shortage of criticism for athletes.
Parents, coaches, teammates, friends, and social media frequently express their opinions:
You can't handle the pressure.
You don't work hard enough.
You can't win the big game.
You are not willing to prepare.
You hold the team back.
You won't get to the next level.
You don't have what it takes.
If you listen to the naysayers long enough, you will buy into their negativity and question your ability, talent, and effort.
How can you avoid harsh criticism?
Think of non-informative criticism as noise. If you are trying to listen to your favorite playlist while two people are talking loudly, the noise may distract you from focusing on enjoying the music.
For that reason, many people use Active Noise Cancelling (ANC) headphones. Noise-canceling headphones block the extraneous chatter that prevents you from enjoying your music.
Blocking noise or harsh criticism is necessary for athletes. While you can't prevent hearing criticism, you can apply mental strategies, such as relaxation, cue phrases, positive self-talk, and even listening to music, to block the repetitive playing of unproductive noise in your mind.
It is not the criticism that hurts your play on the pitch; it's soaking in the noise that prevents you from playing at your peak.
In reality, it doesn't matter what others say; all that matters is what you do.
Former teammate and current commentator Carli Lloyd criticized the USWNT following their draw against Portugal at the 2023 World Cup. Lloyd questioned both the team's preparation and passion during group play.
LLOYD: "Winning and training and doing all that you can do to be the best individual player, that's not happening."
Current captain Lindsey Horan characterized Llyod's comments as noise and stressed the importance of maintaining a singular focus on the team and their preparation for each game.
HORAN: "I always want to defend my team and say, 'You have no idea what's going on behind the scenes. You have no idea, every single training, what we're doing. Individually, collectively.' For anyone to question our mentality hurts a little bit. But at the end of the day, it doesn't really matter. I don't really care. It's what's going on inside of here, what's going on inside of the team. It's noise. It's an opinion, and everyone is entitled to their own opinion, and we know that's how it goes."
No one knows how much you prepare. If someone doubts your preparation, remind yourself it's just noise.
No one knows how hard you work. If someone comments negatively about your efforts, remind yourself it's just noise.
No one knows what goes on in your mind during games. If someone criticizes your play on the pitch, remember, it's only noise.
Tip for Blocking Out the Noise
One strategy for blocking out negative criticism is to write out all of the distractions that are noises. For example, negative comments from the crowd.
Write a second list with focuses that you want to direct your attention to instead. These focuses will help you stay in the moment. For example, staying aggressive in one on one battles or all of the training you have had.
---
Resources for Athletes, Coach, and Sports Parents
Download a free sports psychology report to improve your mental game!
Learn more about our one-on-one mental game coaching.
---
Boost Confidence in Soccer
"Soccer Confidence 2.0" 3-CD and Workbook program is the most comprehensive mental game program we've offered to the public. We're virtually giving away all our mental game secrets for the incredibly low price of only $197.00 including the free bonuses!
"Soccer Confidence" is a complete brain dump of the TOP NINE mental training sessions we teach our soccer players to help them boost their mental game and improve consistency – from how to mentally prepare for games to performing under pressure to building unstoppable confidence.