How to View Coach Criticism as a Positive Message
Criticism from coaches can be a muddled message for some soccer players.
Too often, the message from a coach gets lost in its delivery or emotion.
Loud or negative language can be internalized as an indictment on your abilities as a player.
When coaches give negative criticism, especially if it is done so in an excessively loud manner, soccer players may miss the message and focus on the negative part of the message.
For example, if a coach yells, "What the heck are you doing, I told you to stay back on defense." You might internalize the message as, "You don't do anything right."
…Or if you get pulled from a game and your coach says, "I'm tired of you making bad passes." You might hear the message, "You are not good enough to play."
…Or if your coach says, "If you came to practice more often, you would be in better shape and be able to get to the ball quicker." You might internalize the message as, "You are too heavy," or, "You are slow."
Let's be real… Some soccer coaches are not the best communicators. In fact, some coaches aren't even positive coaches.
These coaches may think their message is a way to motivate and help you to improve your game but have no idea how to communicate that message effectively.
It is difficult, at times, to not take harsh criticism and demeaning language personally.
You can't control the message from your coach or even how the message was presented, but you can learn how to sort through language and tone in order to extract something of value that can improve your game.
This is not an easy task but is essential if you are to advance your game and maintain your passion for the game.
The goal is to objectively wade through the message… throw away the trash or the negativity and harshness and look for the positive message (something that you can work on to improve your game).
For example, if your coach yells out, "How many times can you make the same stupid mistake of not clearing the ball?"
Instead of internalizing the word "stupid" as "you are stupid," ask yourself an objective question and respond with an objective answer:
"Am I stupid? No, I'm a pretty sound defender but I can still improve my game. Instead of settling the ball and dribbling the ball out of danger, I should immediately clear the ball up-field out towards the sidelines."
The goal is to not take the message personally and extract a beneficial tip that you can work on in practice.
Take for instance Chelsea midfielder Eden Hazard…
Hazard has recently received criticism from his coach, after a 2-0 loss to Arsenal, stating that Hazard and some of his teammates are "extremely difficult to motivate."
Instead of internalizing that comment, Hazard brushed off his coach's comment and bounced back in the very next game scoring his 13th goal of the season and helping Chelsea win their semifinal match up against Spurs.
HAZARD: "I don't have a problem with it at all. The manager thinks what they want to think. For me, the best response is to be on the pitch and to win games. I did it."
It can be very difficult to not take coach's comments personally.
You can't control what your coach says or how he says it but you can control how you respond to it.
Coping With Criticism From Coaches:
Be objective. Ask yourself, "Is there anything in this communication that can help my game?"
If yes, create a plan to improve that part of your game. Try not to take coach's comments personally–as an attack on your person.
If you can leave out the emotion of coach's instruction, you can use the instruction as advice rather than negative judgments.
---
Discover Mental Game Secrets to Soccer Confidence!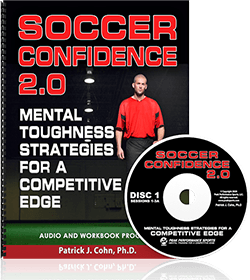 Does your confidence seem to disappear when you go from practice to games?
Do you get nervous and anxious in big games or when under a ton of pressure?
Do you get so frustrated after making a bad pass that your confidence sinks?
If you are ready to improve your mental toughens and perform with ultimate self-confidence in games, check out our program:
Soccer Confidence: Mental Toughness Strategies For a Competitive Edge
Learn proven strategies to improve focus, composure and confidence so you can perform at your peak in games!
Players: Get the mental edge by learning how to take control of your confidence, mentally prepare for games and perform with composure under pressure.
Trainers: Learn how to give your students the mental game advantage.
Coaches: Boost your team's confidence using simple proven mental strategies.
Parents: Help boost your soccer player's confidence. Don't let their mind hold them back any longer.
Learn the top eight mental game lessons for soccer players to boost your mental game and improve consistency. You'll learn how to mentally prepare for games to performing under pressure to building unstoppable confidence!
Soccer Confidence: Mental Toughness Strategies For a Competitive Edge
What are our mental game program customers saying?
With the mental tools my soccer mental training program has given me, I can say with full confidence I am on my way of signing a better professional contract."
~ Lucas Gonzales, Professional Soccer Player in Australia
---
Boost Your Self-Confidence And Focus With Expert Mental Game Coaching!
If you're a top performer during practice but find yourself under-performing in competition, the most likely culprit holding you back is your mental game. In fact, many athletes struggle with the same problem….
Master mental game coach Dr. Patrick Cohn can help you overcome your mental game issues with personal coaching.
Meet with us via Skype, phone, FaceTime, or GoTo Meeting. With today's video technology, we are able to connect with athletes and coaches all over the globe.
Mental toughness coaching helps serious athletes like you to uncover the beliefs and attitudes that keep you from performing to your potential. You'll learn mental game strategies to perform at your peak more often, overcoming performance plateaus and lack of consistency
Call us toll free at 888-742-7225 or contact us for more information about the different coaching programs we offer!
What are our mental coaching students saying?
"I have enjoyed and benefited from your emails over the past year or two. I have been a player, parent, and coach in soccer over the past 40 years. Thanks for the assistance with the mental game resources."
~Kyle Congleton

"Adam is truly one of your success stories. We purchased the CD program for him last year around this time. He is a soccer goalie and needed more confidence. The change was dramatic and he still goes through the exercises before a big game."
~Stella Prevost