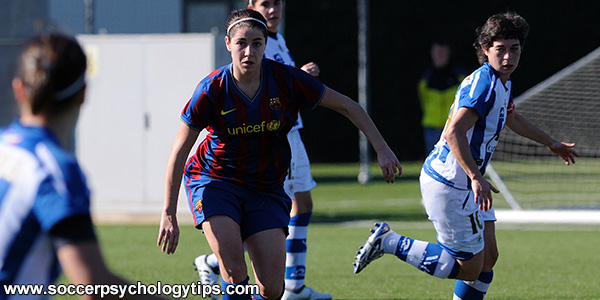 Can You Handle the Pressure of Big Soccer Games?
Is being nervous necessarily a bad thing?
Most soccer players would answer the previous question with a resounding, YES!
They also believe that nervousness guarantees a poor performance.
These players point to games where their play on the field suffered due to nervousness.
Is it really true, then, that nervousness guarantees a poor showing on the pitch?
The reality is that all soccer players get nervous…
That being the case, if nervousness was a bad thing, then no soccer player in the world would ever play a good game.
Well, we all know that is not true… So if nervousness is not the culprit for poor performance, then what exactly causes a player to have bad games?
Excessive nervousness not well managed is the guilty party for poor performance.
If you are not prepared and able to manage the stress of competition, it becomes difficult to play at your peak.
When it comes to nerves, there may be no more challenging game than when your team is competing for a national championship.
That is exactly the situation that Florida State University Women's team found themselves in… competing for the National Championship against powerhouse University of North Carolina.
Florida State beat the defending NCAA Champion Stanford to advance to the finals but FSU still experienced nervousness as the team faced off against a UNC squad that had 21 national championships under their belt.
In the 60th minute, FSU took a 1-0 lead, leaving the team 30 minutes to protect the lead in order to take the title.
North Carolina pushed the pace in the final minutes trying to score a game-tying goal as the pressure mounted for Florida State. FSU senior midfielder Kaycie Tillman admitted to feel a heighted sense of nerves during the end of the game.
TILLMAN: "My heart was pounding. We were just trying to keep the lead, play as safe as possible and make sure we secure the win."
FSU Senior midfielder Megan Connolly, a veteran on the team, also felt a high degree of nervousness as the team tried to close out the game.
CONNOLLY: "I couldn't cope. Five minutes left and they were in our box? I couldn't cope. But the team just fought through."
Despite a heightened nervousness, FSU maintained its focus and thwarted every attempt to score by UNC to win its second National Championship, 1-0.
How?
How was a team who admittedly felt more nervousness than usual, still play its peak and win under such pressure?
The answer is that FSU relied on their experience and their ability to stay focused on the task at hand. This made their nervousness more manageable.
This is the reason that mental training is so important for athletes. Mental training helps athletes learn strategies to manage nerves, control emotions, and improve focus throughout the game.
How to Cope with Excessive Nervousness
First, use one physical strategy, such as focused breathing, to practice each day.
As you develop your breathing strategy, utilize that strategy in practices then apply it in game situations.
Second, learn how to focus on the process and not the outcome of the game.
Worry and anxiety makes you focus on the outcome of the game.
Discover Mental Game Secrets to Soccer Confidence!
Does your confidence seem to disappear when you go from practice to games?
Do you get nervous and anxious in big games or when under a ton of pressure?
Do you get so frustrated after making a bad pass that your confidence sinks?
If you are ready to improve your mental toughens and perform with ultimate self-confidence in games, check out our program:
Soccer Confidence: Mental Toughness Strategies For a Competitive Edge
Learn proven strategies to improve focus, composure and confidence so you can perform at your peak in games!
Players: Get the mental edge by learning how to take control of your confidence, mentally prepare for games and perform with composure under pressure.
Trainers: Learn how to give your students the mental game advantage.
Coaches: Boost your team's confidence using simple proven mental strategies.
Parents: Help boost your soccer player's confidence. Don't let their mind hold them back any longer.
Learn the top eight mental game lessons for soccer players to boost your mental game and improve consistency. You'll learn how to mentally prepare for games to performing under pressure to building unstoppable confidence!
Soccer Confidence: Mental Toughness Strategies For a Competitive Edge
What are our mental game program customers saying?
With the mental tools my soccer mental training program has given me, I can say with full confidence I am on my way of signing a better professional contract."
~ Lucas Gonzales, Professional Soccer Player in Australia

"Dr. Cohn, Michelle had the best weekend of soccer she has ever played. She was relaxed, did not get frustrated with herself or teammates, and never once 'shut down.' Numerous parents noticed a difference in her composure and attitude. Thanks again for EVERYTHING…Michelle is in a very good place right now!"
~Diana, Michelle's Mother
---
Boost Your Self-Confidence And Focus With Expert Mental Game Coaching!
If you're a top performer during practice but find yourself under-performing in competition, the most likely culprit holding you back is your mental game. In fact, many athletes struggle with the same problem….
Master mental game coach Dr. Patrick Cohn can help you overcome your mental game issues with personal coaching.
Meet with us via Skype, phone, FaceTime, or GoTo Meeting. With today's video technology, we are able to connect with athletes and coaches all over the globe.
Mental toughness coaching helps serious athletes like you to uncover the beliefs and attitudes that keep you from performing to your potential. You'll learn mental game strategies to perform at your peak more often, overcoming performance plateaus and lack of consistency
Call us toll free at 888-742-7225 or contact us for more information about the different coaching programs we offer!
What are our mental coaching students saying?
"I have enjoyed and benefited from your emails over the past year or two. I have been a player, parent, and coach in soccer over the past 40 years. Thanks for the assistance with the mental game resources."
~Kyle Congleton

"We try and spend 20 to 30 minutes a day working on the mental aspects of the game. My daughter is really enjoying it and feels it has helped and I know it has worked for her mother and I. I think you need to open a branch up here in Detroit, Michigan because there are a lot of parents and kids up here that need this information. Keep up the good work!"
~Scott Burgess

"Adam is truly one of your success stories. We purchased the CD program for him last year around this time. He is a soccer goalie and needed more confidence. The change was dramatic and he still goes through the exercises before a big game."
~Stella Prevost