What leads to you feeling pressure during soccer games?
This is a question each athlete needs to ask themselves. You can think of many triggers that can add to the pressure of playing travel or college soccer.
For some athletes, they feel pressure from excessively high expectations for themselves. Some athletes feel added pressure due to their perfectionist mentality.
Some athletes feel pressure to perform due to perceived expectations from teammates, coaches and parents.
Other athletes feel pressure from: media outlets, redemption from past performances or mistakes earlier in competition, the feeling they need to prove others wrong, or the importance of a big competition,
Also, the fear of failing, attempts to live up to their ranking, attempts to bounce back from injury or adversity, fear of losing playing time or fear of losing can trigger athletes to feel under pressure. The list goes on…
In order to cope with pressure, you first must know the sources of pressure that hurt your performance.
One thing to note is that a source of pressure for one person may be a source of motivation for another athlete.
For example, an athlete competing in their first championship game may become overwhelmed by the moment fearing they will fall flat on their face and embarrass themselves.
Another athlete in the same championship circumstance may be excited to compete on the big stage and look forward to the challenge of raising their game to the next level.
In this sense, pressure is a matter of perception.
Even greater than knowing your sources of pressure is how to manage pressure to a range than helps you perform at your peak.
For some athletes, even a little bit of pressure may be too much for them to handle. For other athletes, more pressure allows them to get psyched up and ready to compete.
The range of pressure for an athlete to perform at their peak is unique for each athlete.
Once you know at what level of pressure you perform at your peak, then you can learn strategies to guide you into that optimal pressure range or re-direct you into that range in the heat of competition.
When speaking about pressure, the Premier League is one of soccer's most competitive leagues with some of the most storied franchises in all of sport.
As the championship looms nearer, this is the point where many players feel a greater sense of pressure.
Former Manchester United player and winner of eight Premier League championships Gary Neville talked about the difficulty pressure presents for some athletes.
NEVILLE: "Winning the title is obviously about performance, but the mental side is huge. Our first title at Manchester United I never looked forward to it, I struggled with it, and so did other young players you've got to forget about all the noise from the media and the fans, putting pressure on and saying if you lose a game the title race is over."
Pressure is a unique experience for all athletes.
Knowing how you put pressure on yourself and the optimal range of pressure for you to perform at your peak will help improve consistency.
Managing Competitive Pressure:
Review some of your best performances in big competitions.
Identify the preparation and mindset that added to your confidence and reduced the pressure you felt.
Did you feel prepared well for the competition? Were you excited to compete? Were you focused on game strategy or tactics?
Pressure is all about perception for each athlete. How you interpret expectations and pressure will lead to a success-mindset or avoidance-mindset for competition.
Discover Mental Game Secrets to Soccer Confidence!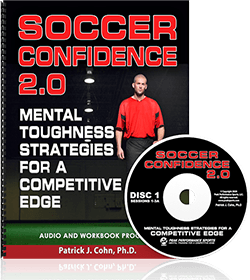 Does your confidence seem to disappear when you go from practice to games?
Do you get nervous and anxious in big games or when under a ton of pressure?
Do you get so frustrated after making a bad pass that your confidence sinks?
If you are ready to improve your mental toughens and perform with ultimate self-confidence in games, check out our program:
Soccer Confidence: Mental Toughness Strategies For a Competitive Edge
Learn proven strategies to improve focus, composure and confidence so you can perform at your peak in games!
Players: Get the mental edge by learning how to take control of your confidence, mentally prepare for games and perform with composure under pressure.
Trainers: Learn how to give your students the mental game advantage.
Coaches: Boost your team's confidence using simple proven mental strategies.
Parents: Help boost your soccer player's confidence. Don't let their mind hold them back any longer.
Learn the top eight mental game lessons for soccer players to boost your mental game and improve consistency. You'll learn how to mentally prepare for games to performing under pressure to building unstoppable confidence!
Soccer Confidence: Mental Toughness Strategies For a Competitive Edge
What are our mental game program customers saying?
With the mental tools my soccer mental training program has given me, I can say with full confidence I am on my way of signing a better professional contract."
~ Lucas Gonzales, Professional Soccer Player in Australia


"My son Alex recently completed your Soccer Mental Training program. I can tell you that he has improved his overall confidence and positive approach before, during, and after games. His stress level regardless of the situation is consistently at a positive and healthy level."
~Luis Quinones, Soccer Parent

---
Boost Your Self-Confidence And Focus With Expert Mental Game Coaching!
If you're a top performer during practice but find yourself under-performing in competition, the most likely culprit holding you back is your mental game. In fact, many athletes struggle with the same problem….
Master mental game coach Dr. Patrick Cohn can help you overcome your mental game issues with personal coaching.
Meet with us via Skype, phone, FaceTime, or GoTo Meeting. With today's video technology, we are able to connect with athletes and coaches all over the globe.
Mental toughness coaching helps serious athletes like you to uncover the beliefs and attitudes that keep you from performing to your potential. You'll learn mental game strategies to perform at your peak more often, overcoming performance plateaus and lack of consistency
Call us toll free at 888-742-7225 or contact us for more information about the different coaching programs we offer!
What are our mental coaching students saying?
"Michelle had the best weekend of soccer she has ever played. I'm not just saying this because you have been working with her (I promise!). She was relaxed, did not get frustrated with herself or teammates, never once 'shut down' and actually smiled a couple of times. Numerous parents noticed a difference in her composure and attitude. A college coach sent an email last night expressing interest–commenting on her level of play during the weekend. Thanks again for EVERYTHING…Michelle is in a very good place right now!"*
~Diana, Michelle's Mother

"Adam is truly one of your success stories. We purchased the CD program for him last year around this time. He is a soccer goalie and needed more confidence. The change was dramatic and he still goes through the exercises before a big game."
~Stella Prevost