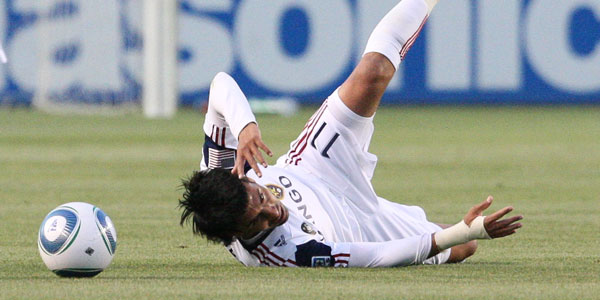 Focus on One Game at a Time
"Take it one game at a time. One half at a time." Have you heard your coach preach this mentality?
Why do coaches have to continually tell their teams to focus one game, one half at a time?
Well, a coach telling a player what to do is not the same as telling a player how to do it?
If you don't know how to narrow your focus, you will repeat the same mistakes over and over.
For that reason, working on your mental game or with a Mental Game Coach is crucial to take your game to the next level?
In our Mental Game of Soccer Survey, Meghan G. had the following question:
"What can I do to prevent going into a slump? After I have a bad game in goal, I usually continue messing up the next couple of games and let in shots that I could have easily saved."
Slumping is caused when you drag the last game with you into the next game. Instead of playing one game at a time, you are worried about a repeat performance.
When you worry about results such as giving up a goal, losing a game, or how the game affects the standings, you become distracted on the field.
You become anxious and tight. When your mind is on the score, you will have difficulty tracking the ball. In addition, you will be slow to react in goal. If you are not immersed in the moment, you will not be in peak physical or mental form.
The question remains: How do you focus one game at a time?
First, process what happened in the last game and why it happened. Consider both the good and bad, mental and physical.
Next, prepare for the upcoming game. What do you need to do for the next game? Having a practice plan is helpful to keep you on track.
Lastly, focus and refocus when necessary. You should focus on your game plan or role on the field. When your mind drifts, it's crucial to have a refocusing strategy to get back on track.
The "one game at a time" approach is not just rebounding after a loss. The approach is also a way to reset for the next match to play mentally and physically at your peak.
Take, for instance, Liverpool F.C. With a 3-1 win over Crystal Palace, Liverpool has slowly cut into Manchester City's lead at the top of the Premier League.
When asked if Liverpool was back in the title race, Liverpool manager Jurgen Klopp said:
KLOPP: "No. The distance is too far to talk about it, but we don't have to. We just need to win football matches. Each Premier League game is difficult like we saw today."
The one match at a time mindset should be your approach to every game. The more you pay attention to this mindset, the more consistent your performances will be.
A "One Game at a Time" Mindset:
Remind yourself that each game is a new game and do not generalize what should happen based on previous games.
What is the most important thing about previous game? Learning how you can improve and grow in practice.
---
---
Discover Mental Game Secrets to Soccer Confidence!
Does your confidence seem to disappear when you go from practice to games?
Do you get nervous and anxious in big games or when under a ton of pressure?
Do you get so frustrated after making a bad pass that your confidence sinks?
If you are ready to improve your mental toughens and perform with ultimate self-confidence in games, check out our program:
Soccer Confidence: Mental Toughness Strategies For a Competitive Edge
Learn proven strategies to improve focus, composure and confidence so you can perform at your peak in games!
Players: Get the mental edge by learning how to take control of your confidence, mentally prepare for games and perform with composure under pressure.
Trainers: Learn how to give your students the mental game advantage.
Coaches: Boost your team's confidence using simple proven mental strategies.
Parents: Help boost your soccer player's confidence. Don't let their mind hold them back any longer.
Learn the top eight mental game lessons for soccer players to boost your mental game and improve consistency. You'll learn how to mentally prepare for games to performing under pressure to building.