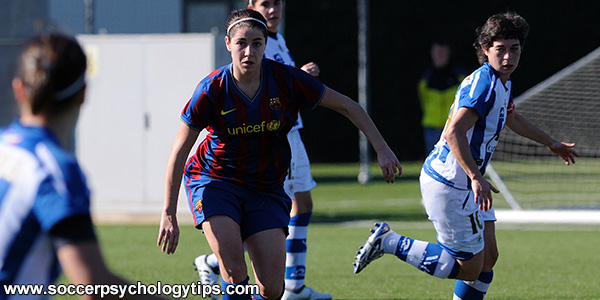 Lean on Your Teammates During These Times
How has the coronavirus affected you athletically and personally?
Do you feel powerless during these pandemic times?
Feeling in control is the reason soccer players dedicate so much time to their preparation.
You train your body and mind by running sprints up and down the practice field or laps around the field during all kinds of weather conditions to prepare to be physically and mentally strong for a 90-minute game.
You run through dribbling drills, passing drills, ball control drills and scrimmages to build upon soccer skills and prepare for game-time situations.
Your coaches scout opposing teams to identify their tendencies in order to create effective game plans geared towards exposing the opponent's weaknesses while taking advantage of your team's strengths.
All these strategies are to prepare you and familiarize you with the various scenarios that might happen in a game. This comprehensive preparation provides you a sense of control because it gives you an idea what to expect during the game.
Unfortunately, the coronavirus is shrouded in unknowns. That is the reason why the coronavirus is so difficult to handle. Players feel a lack of control.
During the pandemic, you don't know what to expect… When will the season restart or will the season be cancelled? What can you do at home to stay in shape? What if this continues into next year?
In addition, financial concerns, schooling logistics, loss of social contact and health of family members can add to the anxiety you already feel.
Athletic and personal issues can cause you to feel completely overwhelmed.
Liverpool defender Dejan Lovren expressed the difficulty he has experienced during the coronavirus pandemic.
LOVREN: "It hasn't been easy as we have been locked up in our homes for 46 days now. The psychological aspect is the most difficult to overcome. I work out on my own as much as I can, I kick the ball around a bit with my son on our lawn, but training with the team is totally different."
Most soccer players welcome a break from training and games to recover mentally and physically, but this unexpected break has proven to be mentally overwhelming.
LOVREN: "We need time off. This hasn't really been time off because the players will need to recover mentally from the pandemic and the resultant quarantine."
Understandably, when you are unable to exert control over your circumstances, you feel helpless.
You are faced with issues both personally and athletically. In order to process your situation and maintain a sense of team, it is important to stay connected to teammates and coaches.
Maintaining a connection with your teammates will help you feel you are not alone during these challenging times.
Finding Support During the Coronavirus Pandemic
Reach out to different teammates each day. Be there for one another. Ask your coach for tips on how to stay sharp mentally or ask for resources to help you process your situation.
When you can process your personal experience, you will come out of this pandemic mentally tougher.
---
Discover Mental Game Secrets to Soccer Confidence!
Does your confidence seem to disappear when you go from practice to games?
Do you get nervous and anxious in big games or when under a ton of pressure?
Do you get so frustrated after making a bad pass that your confidence sinks?
If you are ready to improve your mental toughens and perform with ultimate self-confidence in games, check out our program:
Soccer Confidence: Mental Toughness Strategies For a Competitive Edge
Learn proven strategies to improve focus, composure and confidence so you can perform at your peak in games!
Players: Get the mental edge by learning how to take control of your confidence, mentally prepare for games and perform with composure under pressure.
Trainers: Learn how to give your students the mental game advantage.
Coaches: Boost your team's confidence using simple proven mental strategies.
Parents: Help boost your soccer player's confidence. Don't let their mind hold them back any longer.
Learn the top eight mental game lessons for soccer players to boost your mental game and improve consistency. You'll learn how to mentally prepare for games to performing under pressure to building unstoppable confidence!
Soccer Confidence: Mental Toughness Strategies For a Competitive Edge
What are our mental game program customers saying?
With the mental tools my soccer mental training program has given me, I can say with full confidence I am on my way of signing a better professional contract."
~ Lucas Gonzales, Professional Soccer Player in Australia
"Dr. Cohn, Michelle had the best weekend of soccer she has ever played. She was relaxed, did not get frustrated with herself or teammates, and never once 'shut down.' Numerous parents noticed a difference in her composure and attitude. Thanks again for EVERYTHING…Michelle is in a very good place right now!"
~Diana, Michelle's Mother