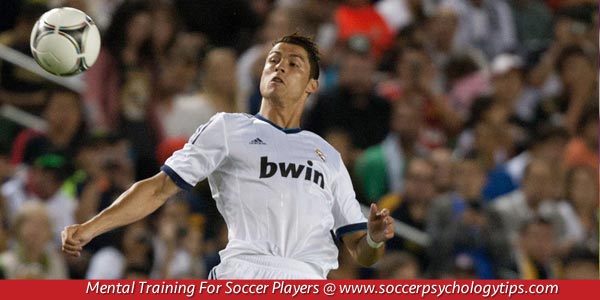 Developing A Stable Level of Confidence
Soccer at any level is a game of confidence. When you have it, you're unstoppable. When confidence sinks, you don't perform up to your capabilities. But confidence for many soccer players is too fragile or fleeting in our opinion.
Too many soccer players allow their confidence to go up or down rapidly based upon immediate results and circumstances during competition. These soccer players have an unstable level of confidence, which will slow you down on the field.
When these players perform well, they feel confident about their skills. When they perform poorly (or not up to expectations), their confidence can dip quickly.
At Soccer Psychology by Peak Performance Sports, we receive emails from soccer players and parents often about how their confidence is shattered after just one bad game, missed penalty kick, or poor performance. When you allow your confidence to slump after one or two mistakes, your confidence will constantly be changing.
We would argue that fragile self-confidence or letting results or circumstances influence your level of confidence in the present moment IS NOT true confidence.
Real self-confidence is stable, long-term, and lasting, even under adversity or poor results. Your self-confidence should be based on years and months of soccer training, practice and competition.
We know that confidence varies for soccer players and that losing confidence at times can happen, such as after an injury. When you have momentum, you ride a massive wave of confidence and can feel superior to the opposition. However, when you struggle to play up to expectations, you can lose some confidence.
The key is to create a stable level of confidence that does not fluctuate based on your performance in the last game. Stay focused on your next game or practice and draw from all of your years of experience, not just yesterday, to feel confident.
3 Strategies to Develop Stable Confidence
Use mistakes or mishaps as an opportunity to improve your game instead of being self-critical of your performance, which hurts your soccer confidence. When you are overly self-critical of your performance, you cripple your own confidence.
Always look for opportunities to turn around your performance in a game when not performing well or when down in a game. Just one goal or great play can spark your game and give you the opening to harness momentum.
We tell our soccer players not to look too far in the past. Don't focus on what is in the past that you cannot change. Refocus as fast as you can on the next play, practice, or game. Focus on doing betting in the future without being critical of your game.
Download our free e-book, "7 Mental Game Challenges that Block Soccer Player's Success", and learn how to overcome other mental game barriers soccer players face.
---

Learn Mental Game Secrets to Soccer Confidence!
Does your confidence seem to disappear when you go from practice to games and don't know why? Do you get nervous and anxious in big games or when you are under a ton of pressure? Do you get so frustrated when you make a bad pass which causes your confidence to sink?
Check out Soccer Confidence: Mental Toughness Strategies For a Competitive Edge
Learn proven strategies to improve focus, composure and confidence so you can perform at your peak in games!
Players: Get the mental edge by learning how to take control of your confidence, mentally prepare for games and perform with composure under pressure.
Trainers: Learn how to give your students the mental game advantage.
Coaches: Boost your team's confidence using simple proven mental strategies.
Parents: Help boost your soccer player's confidence. Don't let their mind hold them back any longer.
Soccer Confidence: Mental Toughness Strategies For a Competitive Edge
What are soccer confidence customers saying?
"We try and spend 20 to 30 minutes a day working on the mental aspects of the game. My daughter is really enjoying it and feels it has helped and I know it has worked for her mother and I. I think you need to open a branch up here in Detroit, Michigan because there are a lot of parents and kids up here that need this information. Keep up the good work!"
~Scott Burgess, Soccer Parent
---

Do You Make Any of These 'Costly' Mental Game Mistakes?
Download our FREE soccer psychology report and discover if you make any of these 'costly' mental game mistakes that can block your success.
You'll discover:
How your soccer mind can be your best or worst asset on the field.
How frustration and dwelling are your worst enemy.
If you are using your soccer mindset effectively before games.
Learn the important mental game of soccer skills you need to master to boost your confidence and performance.
7 'Costly' Mental Game Mistakes That Block Soccer Players' Success
What are soccer psychology subscribers saying?
"I have enjoyed and benefited from your emails over the past year or two. I have been a player, parent, and coach in soccer over the past 40 years. Thanks for the assistance with the mental game resources."
~Kyle Congleton, Soccer Coach and Parent
---
Mental Game Coaching for Soccer Players
Master mental game coach Dr. Patrick Cohn can help you overcome your mental game issues with personal coaching.
You can work with Dr. Patrick Cohn himself in Orlando, Florida or via Skype, FaceTime, or telephone. Call us toll free at 888-742-7225 or contact us for more information about the different coaching programs we offer!
We look forward to helping you improve your mental toughness!
What are our mental coaching students saying?
"Our son plays academy level soccer. Jaki taught him how to focus on mini goals for each game and practice, how to lower his expectations and understand that mistakes are necessary to grow as a player, and helped his perfectionism. We saw a noticeable difference within one month with improvement each month thereafter. He was more confident, happy, and was having fun again at soccer. The confidence has helped him off the field as well to not have to be perfect in everything that he attempts. We can't say enough about how grateful we are for Jaki!"
~Linda Black, Soccer Mom