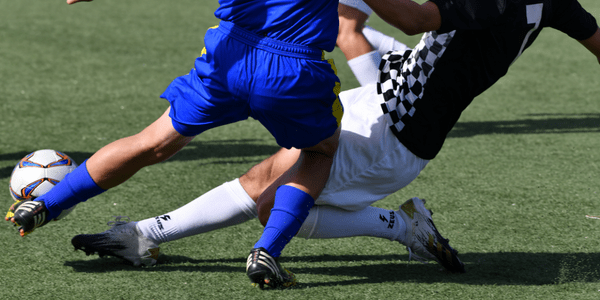 Are You Able to be Moved Around the Field
How would you feel if your soccer coach switched the position you have played for the majority of your career?
Do you think you would be up for the challenge or upset with your coach's decision?
Often change is difficult. Moving on from a position you have played since you were young can be unsettling.
However, your attitude towards change will impact your growth as a player.
A collegiate player contacted us after being moved from offense to defense in her sophomore year:
"My whole life, I have played offense. I love attacking and scoring. My coach decided he wanted me to play defense. Now, I have to learn a new position this late in my career. Mentally, I feel like a mess and have no idea how to move forward with this change."
Changing positions requires a tactical and mental adjustment. When playing offense, you are in attack mode. However, playing on the backline requires a different mindset.
Since there is a learning curve when you switch positions, how you approach the position change will determine how quickly you learn the new position and contribute to your team.
If you are resistant to the position change, you will be slow to grow into your new role or feel added pressure during games.
Accepting your role on the team is the key to rising to the challenge. It is essential to have the mindset that you are not merely fulfilling the role but elevating the role to another level.
With this mindset, you will view the position change as a challenge. You will become excited and motivated to work on your game.
You will no longer see the position change as something you "have to do" but as something you "want to do."
Take, for instance, Antoine Griezmann. Griezmann started his career playing attack.
In the 2018 World Cup, Griezmann scored four goals helping France win the tournament. At the 2022 World Cup, France's manager Didier Deschamps switched Griezmann to midfielder.
Instead of complaining or whining, Griezmann viewed his role as an opportunity to help France repeat as World Cup Champions.
Griezmann tackled the change with enthusiasm and rose to the challenge.
GRIEZMANN: "I am quite free in this new role. I must be the link between the defense and the forwards. I have three players in front of me, so more options, so it is easier for me."
Your attitude toward change affects your motivation, enthusiasm, and ultimately, your contribution to team success.
You may not be ecstatic about changing positions but think of it as becoming a more complete player. With the right perspective, you can increase your value to your team.
Instead of feeling as if you were demoted, have a conversation with your coach.
Ask how you can best adapt to your new role. Understand how you can better impact your team.
Try to focus on what you are learning playing a new position and how this will make you a more complete player.
---
Resources for Athletes, Coach, and Sports Parents
Download a free sports psychology report to improve your mental game!
Learn more about our one-on-one mental game coaching.
---
Boost Your Confidence in Sports
Can you experience yourself right now walking out onto the court, diamond, course, or playing field with complete conviction in your ability and unwavering confidence beaming like a bright light? Imagine feeling dominant, positive with only confident thoughts, and ready to take control of the game.
You can learn how to think like a champion and have ultimate self-confidence just like the pros. It's not hard or impossible to achieve – I help athletes reach their goals every day and you, too, can learn the same strategies I teach to my students who pay me well over $1000 per day for personal coaching.
Do you prefer confident and in control or doubt and helplessness? I thought so. You can empower yourself to take action and I have the mental strategies to help unlock your confidence and instill confidence-enhancing thoughts – so you can be in control with greater levels of confidence – consistently.