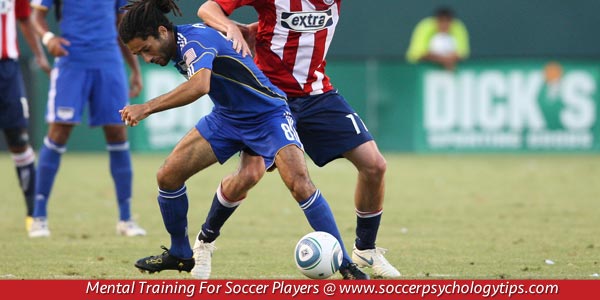 Pregame Mental Preparation For Games
Do you or your soccer players wait until after the first few plays of the game to feel confident? If you don't have a great warm up, does this affect your mindset for the game? Do you have doubts or worry about making mistakes and play safe or tentatively?
We're sure you have a physical pregame routine, but do you use this time as a mental warm up too?
Shooting on goal, hitting long balls, playing possession, and dynamic stretching are imperative to prepare for competition. What's missing? A mental warm up to instill confidence, shake off anxiety, and focus on the game plan.
Most coaches and players agree that a big part of being successful in soccer is mental, though fail to implement a routine that includes mental preparation.
As a result, you might feel ready physically, but not fully prepared mentally because of low confidence, inability to trust skills, performance anxiety, or trouble performing under pressure.
We teach our soccer players that starting a soccer game without a mental warm up routine is the same as showing up five minutes before the game and skipping all of the stretching and other physical preparation.
This approach would inevitably lead to a poor performance at best and injury at worst. In the same way, failing to mentally prepare will hurt your performance and can injure your confidence.
Have you heard a parent or coach say "get your mind right" or "start getting mentally prepared", but don't know how to mentally prepare?
We believe that the number one reason soccer players don't have a pregame mental routine is because they don't know how to implement one. In addition, unlike an actual physical injury, mental scars cannot be seen and therefore are often avoided or ignored until it becomes too late.
At Peak Performance Sports we work with our soccer players on how to create a pregame routine that prepares them to play with confidence, trust, composure, and mental toughness.
Contact us to learn how we can improve your mental game by creating a custom pregame routine and implement other important mental strategies that will help you succeed in soccer.
You can also download our free ebook "7 Costly Mental Game Mistakes That Block Soccer Players' Success" and learn how to overcome other mental barriers to peak performance.
---

Learn Mental Game Secrets to Soccer Confidence!
Does your confidence seem to disappear when you go from practice to games and don't know why? Do you get nervous and anxious in big games or when you are under a ton of pressure? Do you get so frustrated when you make a bad pass which causes your confidence to sink?
Check out Soccer Confidence: Mental Toughness Strategies For a Competitive Edge
Learn proven strategies to improve focus, composure and confidence so you can perform at your peak in games!
Players: Get the mental edge by learning how to take control of your confidence, mentally prepare for games and perform with composure under pressure.
Trainers: Learn how to give your students the mental game advantage.
Coaches: Boost your team's confidence using simple proven mental strategies.
Parents: Help boost your soccer player's confidence. Don't let their mind hold them back any longer.
Soccer Confidence: Mental Toughness Strategies For a Competitive Edge
What are soccer confidence customers saying?
"Dr. Cohn, Michelle had the best weekend of soccer she has ever played. She was relaxed, did not get frustrated with herself or teammates, and never once 'shut down.' Numerous parents noticed a difference in her composure and attitude. Thanks again for EVERYTHING…Michelle is in a very good place right now!"
~Diana, Michelle's Mother
---

Do You Make Any of These 'Costly' Mental Game Mistakes?
Download our FREE soccer psychology report and discover if you make any of these 'costly' mental game mistakes that can block your success.
You'll discover:
How your soccer mind can be your best or worst asset on the field.
How frustration and dwelling are your worst enemy.
If you are using your soccer mindset effectively before games.
Learn the important mental game of soccer skills you need to master to boost your confidence and performance.
7 'Costly' Mental Game Mistakes That Block Soccer Players' Success
What are soccer psychology subscribers saying?
"We try and spend 20 to 30 minutes a day working on the mental aspects of the game. My daughter is really enjoying it and feels it has helped and I know it has worked for her mother and I. I think you need to open a branch up here in Detroit, Michigan because there are a lot of parents and kids up here that need this information. Keep up the good work!"
~Scott Burgess, Soccer Parent
---
Mental Game Coaching for Soccer Players
Master mental game coach Dr. Patrick Cohn can help you overcome your mental game issues with personal coaching.
You can work with Dr. Patrick Cohn himself in Orlando, Florida or via Skype, FaceTime, or telephone. Call us toll free at 888-742-7225 or contact us for more information about the different coaching programs we offer!
We look forward to helping you improve your mental toughness!
What are our mental coaching students saying?
"Our son plays academy level soccer. Jaki taught him how to focus on mini goals for each game and practice, how to lower his expectations and understand that mistakes are necessary to grow as a player, and helped his perfectionism. We saw a noticeable difference within one month with improvement each month thereafter. He was more confident, happy, and was having fun again at soccer. The confidence has helped him off the field as well to not have to be perfect in everything that he attempts. We can't say enough about how grateful we are for Jaki!"
~Linda Black, Soccer Mom