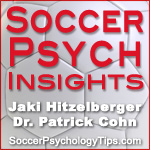 Welcome to episode 7 of Soccer Psychology Insights. In this episode Jaki Hitzelberger, MA interviews Dr. Alberto Gamarra, sports psychology expert from South Florida. Dr. Gamarra is the owner and founder of Mental Mastery and works with athletes to improve their mental game and performance.
Jaki Hitzelberger and Dr. Gamarra discuss how a mental trainer or sports psychologist can help soccer teams and players improve confidence and focus in order to perform under the pressure of being a high level athlete. They also discuss the recent shift in perception of mental training in that soccer coaches are starting to utilize and realize the benefit of having a mental trainer or mental game coach on staff.
If you have a question for us, please visit our Contact Us Page and submit your question, we will do our best to answer your question in our Soccer Psychology Articles or on our soccer psychology podcast, Soccer Psych Insights.
Download our free soccer psychology Ebook "7 Costly Mental Game Mistakes that Block Soccer Players' Success" and learn how to overcome other mental barriers in soccer.


Podcast: Play in new window | Download (Duration: 8:12 — 9.4MB) | Embed