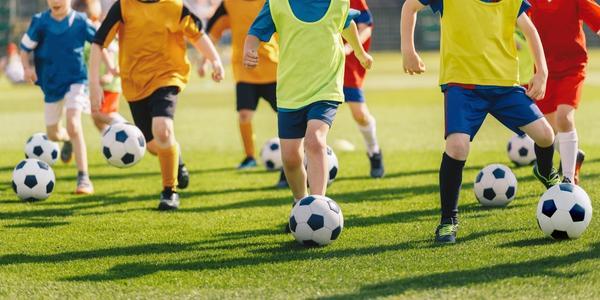 How do you handle criticism from your coach?
Do you take the feedback as constructive and apply the feedback in practice?
Or do your feelings get hurt, and you feel your coach has something against you?
Improvement starts with feedback. Without feedback, there is no growth as a soccer player. And without applying feedback, you cannot grow to your potential.
Some soccer players see criticism as a negative assessment of their abilities or who they are.
For example, feedback from your coach, such as, "You need to push the ball down the field even if you are tired," may be interpreted as "My coach thinks I'm lazy."
You will get angry or hurt when you take this feedback as a slight from your coach. You will turn the feedback into something bigger than it is, "My coach doesn't like me. He is going to take me out of the starting lineup."
You will begin to question your abilities and lose confidence. You will put less effort into practice, get tired late in games, and won't be able to push the ball downfield. Your coach may even think you aren't listening to his advice or don't care enough to change.
Conversely, if you take the feedback as constructive, you will think, "I need to build my endurance" or "I should focus on being more aggressive late in games."
You will feel motivated to work on your conditioning in practice and mindset later in games. You will see the feedback as a way to take your game to another level, and you will maintain a high degree of confidence.
You will even develop a better relationship with your coach.
How you view feedback will determine whether you apply the feedback and improve your game.
Winger Christian Pulisic is one of the top scorers for the United States Men's National Team. Throughout his career on the national team, head coach Greg Berhalter gave Pulisic feedback about his game.
PULISIC: "[Berhalter] cares about his players. He's not going to tell you it's easy or tell [you] what you want to hear. He is going to tell you what he feels is going to improve you."
At times, Pulisic didn't want to hear the advice, but he knew that listening to the feedback with an open mind and applying the feedback would lift his game to the next level.
PULISIC: "You don't always want to hear it. And as a player, you want to be right! You know [how it is] 'Who are these guys to tell you, a professional player, how to handle yourself!!' But I've always been with that mentality that I'm here to learn. That's who I want to be, and it's what makes the top players to the top."
When a coach gives you feedback, it is a sign that they care, see your potential, and want you to take the next step in your soccer career.
Feedback is a waste if not applied. Feedback shouldn't be viewed as a personal attack, even when the delivery is harsh.
To improve your game, separate the message from the delivery, apply the feedback to the best of your ability, and continually work to improve your game.
---
Resources for Athletes, Coach, and Sports Parents
Download a free sports psychology report to improve your mental game!
Learn more about our one-on-one mental game coaching.
---
Boost Confidence in Soccer
"Soccer Confidence 2.0" 3-CD and Workbook program is the most comprehensive mental game program we've offered to the public. We're virtually giving away all our mental game secrets for the incredibly low price of only $197.00 including the free bonuses!
"Soccer Confidence" is a complete brain dump of the TOP NINE mental training sessions we teach our soccer players to help them boost their mental game and improve consistency – from how to mentally prepare for games to performing under pressure to building unstoppable confidence.