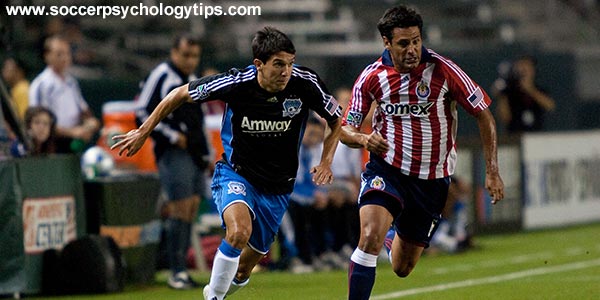 How to Keep the Momentum Through Championships
"How do I get my team not to lose focus and not to look too far ahead when heading into the playoffs?"
This is a question asked by a coach from our soccer survey.
Gaining a better understanding of this issue (overlooking games or opponents that are perceived as "not significant") will help coaches, teams and individual players to maintain strong focus, energy and effort.
Let's define the problem at hand… When teams have clinched a playoff spot or are heavily favored to make the playoffs, the tendency is to look past weak teams and focus on the next the games that 'really matter'.
"We really don't have to prepare for teams we will easily beat; it's the playoffs that really matter." So you lay off the gas pedal in practice, the intensity is just not there.
You have the belief that you can just turn it on and be 100% ready for the games that matter most.
The three problems with this mindset are that overlooking opponents (1) causes you to play flat in games, (2) increases your chances of losing and (3) detracts from building emotional momentum heading into the playoffs.
For example, your team is guaranteed a spot in the playoffs with one game remaining in the regular season. The team you are about to play has only 3 regular season wins and the last time you played this team your team won 6-0. The week of practice heading into this final regular season game is lax, after all you believe it will be another blowout.
In warmup, you are just messing around with your teammates because you feel this game is a foregone conclusion. You are over-confident and you find yourself trailing 3-0 after the first half. You manage to score only two goals in the second half and lose 3-2. Heading into the playoffs, you feel dejected after the game and full of doubts.
That is not the case for Tyler Adams, midfielder for RB Leipzig of the Champions League. Adams's team is focused on winning the Bundesliga title but the team knows the only chance for success is to focus one game at a time.
ADAMS: "One of the most important things is taking it game by game, right? We don't want to look too far ahead and say, this game is going to be a deal breaker for us winning the title…"
"We have some important Champions League games coming up as well, but we can't really look too far ahead. I mean, there's going to be some tough tasks ahead—not just for us, but for Bayern, for Dortmund, for a lot of the teams that are fighting for that top spot. For me, obviously it's no secret that at the end of the year I want to raise a trophy."
Every game is an opportunity to build upon your confidence, improve team chemistry, hone your skills and sharpen your focus.
The 'every game' competitive mindset keeps you grounded in the present to be better prepared for challenges in the future.
Challenge Yourself Each Game:
Prior to each game, ask yourself, "How will this game help me achieve my seasonal goals?"
The next question is, "What do I need to focus on in this game to improve my game and be successful?" Success may not necessarily mean winning but it could mean sharpening up technical or mental skills to improve your overall game.
Find a "game within the game" to challenge yourself and improve your game. You might think about making a better first touch, staying focused on each run, or being more aggressive on tackles.
---
Discover Mental Game Secrets to Soccer Confidence!
Does your confidence seem to disappear when you go from practice to games?
Do you get nervous and anxious in big games or when under a ton of pressure?
Do you get so frustrated after making a bad pass that your confidence sinks?
If you are ready to improve your mental toughens and perform with ultimate self-confidence in games, check out our program:
Soccer Confidence: Mental Toughness Strategies For a Competitive Edge
Learn proven strategies to improve focus, composure and confidence so you can perform at your peak in games!
Players: Get the mental edge by learning how to take control of your confidence, mentally prepare for games and perform with composure under pressure.
Trainers: Learn how to give your students the mental game advantage.
Coaches: Boost your team's confidence using simple proven mental strategies.
Parents: Help boost your soccer player's confidence. Don't let their mind hold them back any longer.
Learn the top eight mental game lessons for soccer players to boost your mental game and improve consistency. You'll learn how to mentally prepare for games to performing under pressure to building unstoppable confidence!
Soccer Confidence: Mental Toughness Strategies For a Competitive Edge
What are our mental game program customers saying?
With the mental tools my soccer mental training program has given me, I can say with full confidence I am on my way of signing a better professional contract."
~ Lucas Gonzales, Professional Soccer Player in Australia
"Dr. Cohn, Michelle had the best weekend of soccer she has ever played. She was relaxed, did not get frustrated with herself or teammates, and never once 'shut down.' Numerous parents noticed a difference in her composure and attitude. Thanks again for EVERYTHING…Michelle is in a very good place right now!"
~Diana, Michelle's Mother
---
Boost Your Self-Confidence And Focus With Expert Mental Game Coaching!
If you're a top performer during practice but find yourself under-performing in competition, the most likely culprit holding you back is your mental game. In fact, many athletes struggle with the same problem….
Master mental game coach Dr. Patrick Cohn can help you overcome your mental game issues with personal coaching.
Meet with us via Skype, phone, FaceTime, or GoTo Meeting. With today's video technology, we are able to connect with athletes and coaches all over the globe.
Mental toughness coaching helps serious athletes like you to uncover the beliefs and attitudes that keep you from performing to your potential. You'll learn mental game strategies to perform at your peak more often, overcoming performance plateaus and lack of consistency
Call us toll free at 888-742-7225 or contact us for more information about the different coaching programs we offer!
What are our mental coaching students saying?
"I have enjoyed and benefited from your emails over the past year or two. I have been a player, parent, and coach in soccer over the past 40 years. Thanks for the assistance with the mental game resources."
~Kyle Congleton
"We try and spend 20 to 30 minutes a day working on the mental aspects of the game. My daughter is really enjoying it and feels it has helped and I know it has worked for her mother and I. I think you need to open a branch up here in Detroit, Michigan because there are a lot of parents and kids up here that need this information. Keep up the good work!"
~Scott Burgess
"Adam is truly one of your success stories. We purchased the CD program for him last year around this time. He is a soccer goalie and needed more confidence. The change was dramatic and he still goes through the exercises before a big game."
~Stella Prevost